Why We Chose eXp Realty
I've been in the real estate business since 1998 and I've worked with two outstanding real estate companies, Coldwell Banker and RE/MAX. As technology, marketing, and customer needs have changed top agents and teams are having to invest more and more into lead-generation, CRM systems, and staff. This has caused many agents and teams to seek an evolved brokerage platform that allows the agent to maintain their brand and expand their reach without the need for opening new brick and mortar offices. At the same time, this allows an agent or team to grow their business with a very affordable and capped brokerage investment.
We moved our entire independent real estate company to eXp Realty to be able to leverage the eXp technology and infrastructure to help us grow, while at the same time our agents now have agent ownership options, healthcare options, and new revenue share opportunities. If you would like to learn more about why we chose eXp and how we can partner with you to grow your business schedule a call with Buddy.
Agent Equity Options
Finally, we have the opportunity to be an owner in our company, at a discounted stock purchase price, so we can have the opportunity to build a real retirement from our real estate career instead of paying 5, 6 or even 7% in roytalty fees we will never get back.
Health Care Options
As an independent real estate contractor, we are excited to finally have real options to purchase affordable health care coverage individually or for our family.
Everything Is Included
Whether you are an agent with a large team or just yourself, eXp provides you with all the tools to scale your business. The state-of-the-art cloud-based bookkeeping and business tracking system eXp provides removed the need for our company to employ full-time staff to handle the commissions with a same-day electronic deposit in most cases. All of our agents also receive their own lead-generation website with a powerful online marketing engine they can scale as they grow. The online and app-powered Skyslope paperless transaction and electronic signature system save time, paper, and the need to store thousands of physical files. When you choose to have Buddy as your sponsor you also get top-notch coaching, plug-n-play marketing plans, weekly top-agent masterminds, and an entire suite of custom-built management tools included. If you would like to learn more about partnering with Buddy Blake at eXp book a call with Buddy.
No desk fees. No royalty fees. No franchise fees.
Please Note: This is not an official eXp Realty communication and the information is subject to change. eXp stock award amounts may change annually and the stock prices fluctuate regularly. The qualifications for the ICON Agent award also may change from year to year, so before joining our brokerage, please request a copy of the latest eXp Realty commission splits, fees, offerings, and awards.
eXp Realty Commission Splits
There is an 80/20 commission split until you reach your $16,000 annual cap. For those of you that aren't familiar with a commission cap, that just means that once you've paid eXp $16K, you keep 100% of your commissions for the remainder of your anniversary year. Once you've reached your cap, there is just a $250 transaction fee for the next 20 transactions and $75 after that.
** Please note that new agents or those who sold fewer than three (3) homes in the past 12 months will be in the eXp Mentor Program. There is an additional 20% split for your first 3 transactions with your local mentor.
In order to keep your monthly costs down, eXp elected to charge your E&O (Errors and Omissions) Insurance by the transaction. You pay just $40 per sale until you reach the $500 annual cap. There is also a $25 broker review fee to ensure your contracts are rock solid!
When you join eXp Realty, there is a $149 Startup Fee that includes your first monthly fee as well as:
1,000 business cards
Setup of your new lead generation website
Contact Management System
Regus Business Center Membership
HelloFax # and Toll-free 800#
Google Apps for work, storage, email
Breakthrough Broker Membership
Skyslope Transaction Management System
Your own Agent Attraction Website
Access to eXp World, our virtual campus
eXp Stock Equity Plan
The first option is the EXPI Stock Awards where you can receive stock for your first transaction each year, hitting your commission cap and introducing someone to the company. With eXp Realty's Sustainable Equity Plan, our agents receive stock awards for accomplishing specific goals each year.
There is also an ICON Agent Program that allows top producers to receive their $16,000 cap back in EXPI stock. You just have to sell 20 homes after capping and/or earn at least $500K GCI annually and paid at least $5K in transaction fees. As of 2019, you'll receive $12,000 worth of stock when you meet the qualifications, as well as an additional $4,000 if you attend our two annual eXp conferences.
The third way that you can earn additional income is by attracting other agents to the brokerage and participating in the eXp Realty revenue share program. You'll not only receive $400 worth of EXPI stock* for each agent you introduce, eXp will also share 3.5% of whatever your sponsored agent sells until they hit their $16K cap. If your agent sells a home that generates $15,000 in gross commission, eXp will share 3.5% with you (i.e. $525). If you bring six agents (cappers) to eXp, you would earn $16,000 in revenue share… every year.
Learn More About How You Can Grow Your Business - BOOK A CALL WITH BUDDY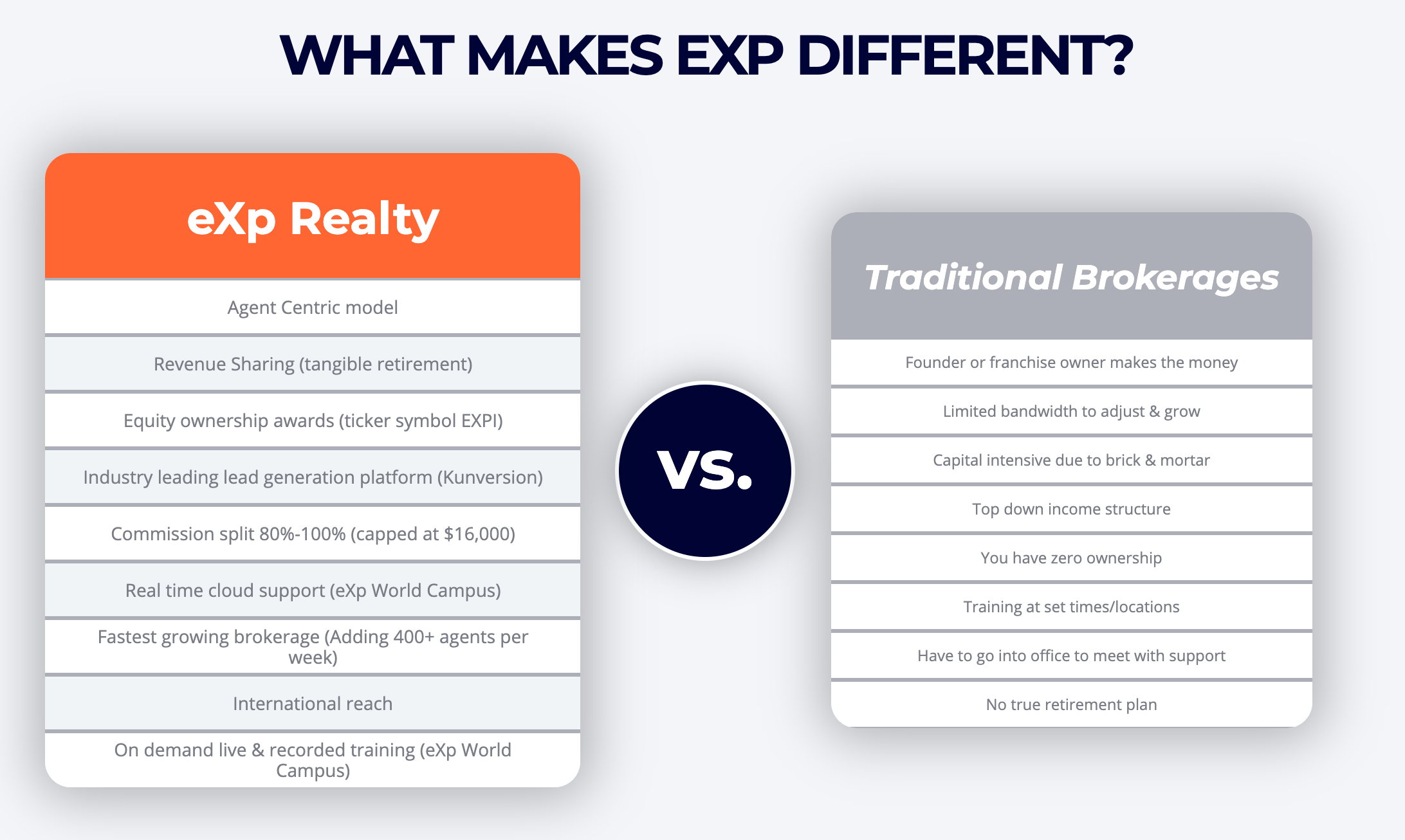 More About Buddy & eXp Realty
From Our Blog - eXp
Why We Moved To eXp
WILMINGTON, NC - Longtime top producing REALTOR Buddy Blake decided to move his independent real estate company to eXp Realty, the fastest growing real estate company in history. Read more