Wilmington Area Real Estate Market July 2023
Posted by Buddy Blake on Monday, July 24, 2023 at 7:05:02 PM
By Buddy Blake / July 24, 2023
Comment
Changing Tides of Wilmington NC Real Estate Market: A Seller's Perspective
Welcome to the Great Wilmington, NC area, a picturesque coastal region known for its vibrant real estate market. In this article, we will explore the local market statistics and trends in the Wilmington area, focusing on key indicators such as the Market Action Index, inventory levels, and pricing dynamics. We'll delve into how these factors have evolved over the past couple of years and what they mean for sellers in the current landscape.
The Market Action Index: Gauge of Seller's Market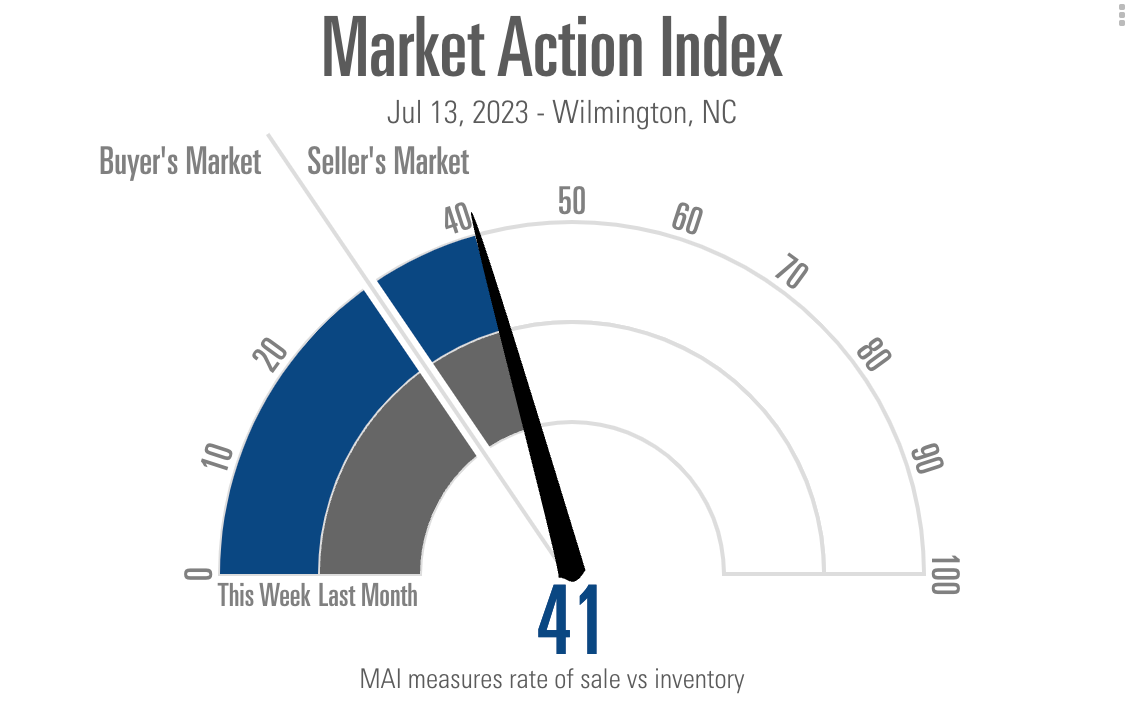 To understand the Wilmington NC real estate market, we use the Market Action Index, a valuable tool to identify whether it's a buyer's or seller's market. A score of 100 signifies a balanced market where supply and demand are equal, and properties typically take four to six months to sell. Wilmington has been experiencing a seller's market, characterized by high demand and limited inventory, resulting in quick sales and competitive bidding.

View our real-time market reports, updated daily.
Market Trends in 2022 vs. 2023
In April 2022, the Market Action Index reached its peak at 68, indicating a robust seller's market. However, over time, the market dynamics began to change. Rising interest rates and a slowdown in relocating due to COVID contributed to this shift. As a result, the index now stands in the 40 range, signifying a more balanced market.
The Median Price Over Time
Analyzing data from 2021, 2022, and 2023, we find that while prices haven't experienced a crash, they have reached a turning point. The growth trajectory seems to have plateaued, leading to more price reductions and an increase in the number of days properties spend on the market.
The Role of Inventory
Inventory plays a crucial role in determining the health of the real estate market. In April 2022, the Wilmington area had a limited inventory of 522 units, resulting in high demand and intense competition. However, in 2023, the inventory increased significantly, nearly tripling to 1300 units. This rise in inventory has led to an increase in days on the market and more price reductions.
Advice for Sellers

In the current market landscape, sellers must adapt their strategies accordingly. Overpricing is no longer a viable tactic, and sellers must have a clear pricing strategy that aligns with market conditions. Pricing plays a significant role in marketing a property, impacting its visibility and desirability. Setting realistic prices based on comparable properties and current market trends is essential for a successful sale.
Find Out the Value of Your House Today!

Curious about the current value of your house in the Wilmington area? Discover its market worth with a complimentary property evaluation. Visit Buddy Blake's HiFello AI page to get your free estimate today. Take advantage of the changing tides in Wilmington NC real estate and make informed decisions for your property.
---
How Much Is Your Home Worth?
---
Conclusion
As the Wilmington NC real estate market experiences shift, sellers need to be intentional and strategic in their approach. Understanding market indicators like the Market Action Index, inventory levels, and pricing dynamics can help sellers make informed decisions. Taking advantage of the current market conditions while being realistic in pricing will enable sellers to navigate the changing tides of Wilmington real estate successfully.