Tour Wilmington By Way of Water
Posted by Buddy Blake on Thursday, April 25, 2013 at 4:38 PM
By Buddy Blake / April 25, 2013
Comment
Taking a cruse throughout the waters of Wilmington provides the opportunity for history, mystery and so much more. Whether you want to enjoy the history of shipwrecks, the beautiful scenery or just time with family on the water, this is a great way to go exploring.
Water Tours, LLC provides many different cruises throughout the year including:
History & Mystery Beneath the Cape Fear River - Thursdays, 10am to 12pm
Best of Both Worlds - Wednesdays, Fridays and Saturdays from 4 to 6pm
Blackwater Adventure
Eagles Island Cruise
Sunset Cruise
Captain's Lazy Day Cruise
Full Moon Cruise
Autumn Escape
Acoustic Spotlight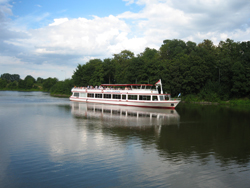 Some of these tours are held every week, while others don't have a regular schedule. Many other specialty cruises happen throughout the year, such as the Lock & Dam Cruise, which includes a full day trip of about 100 miles. The next Lock & Dam Cruise happens at 9am on April 28th. Make sure to check the calendar at http://www.wilmingtonwatertours.net/ for upcoming cruise dates and times.
Private Cruises
If you want to hold a special event on one of these cruises or you want to take a private cruise, you can. Private cruising provides an intimate setting with a casual atmosphere for anything from a wedding to a corporate outing. Your cruise can even include beverage services, food and anything else you need. Prices vary depending on the time of year and how long you want the cruise to last.
Spring And Summer Cruises
Sunset Cruises are back and they sell out fast. This is a two-hour cruise starting at 6:30pm. It's held during the week throughout the month of May and the rest of the summer. If you're looking for a relaxing cruise to finish off a hard day of work, this is a great choice. Tickets are $33 for adults and $16.50 for children.