Top Wilmington Beaches for Families
Posted by Buddy Blake on Thursday, July 18, 2013 at 11:23 AM
By Buddy Blake / July 18, 2013
Comment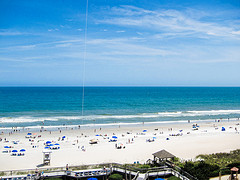 Most of the beaches found on the shores of the Atlantic Ocean in Wilmington, NC are perfect for families. Whether you choose to travel a little north to a smaller beach, such as Top Sail or you prefer a larger beach, like Wrightsville, there are plenty of choices. Here are some of the top beach choices for families in the area.


Wrightsville Beach
The most popular beach and the largest in Wilmington, Wrightsville Beach is perfect for all kinds of family fun. Enjoy wind surfing, kayaking, jet skiing, parasailing and many other activities. If there's an event going on at the beach, it's most likely at Wrightsville Beach. The Johnny Mercery's Pier provides a great place for fishing and the area is full of marinas, restaurants and stores.
Carolina Beach
Found just south of Wilmington and north of Pleasure Island, Carolina Beach is another popular destination. Plenty of dining and shopping surround the beach and visitors can enjoy a stroll along the boardwalk. Activities, such as canoeing, fishing, scuba diving and sailing are popular here.
Kure Beach
A bit further south from Carolina Beach, Kure Beach is found with a fishing pier and a small-town feel. This is a smaller beach and the oldest along the East Coast. Families can enjoy the beach and the nearby aquarium.
Topsail Beach
About 20 miles north of Wilmington, you'll find Topsail Beach. This is a smaller area with a private feel. Topsail hasn't been commercialized as much as the other beaches, but it's a little further away from Wilmington, as well. If you're looking for a unique beach experience with a private feel, a trip north will provide exactly what you're after.
After moving to Wilmington and discovering all the nearby beaches, you can head an hour south to Myrtle Beach or further north on an adventure to some of the other top beaches throughout the Carolina Coast.