The Beauty of the New Hanover County Arboretum
Posted by Buddy Blake on Tuesday, May 28, 2013 at 1:09 PM
By Buddy Blake / May 28, 2013
Comment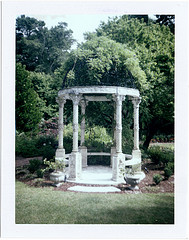 The 7-acure Arboretum is one of the most beautiful gardens found in New Hanover County. With a variety of different plants, this garden is a top choice for plant lovers, those looking for a great place for an event and just for an enjoyable family outing. The staff at the Arboretum is very knowledgeable and provides plenty of education about the gardens.
The vision of the Arboretum is to be the premier resource center for horticultural education, environmental stewardship, community involvement and leadership development. The resource center is a model for all the horticultural centers in the southeastern area of the United States. With the help of many volunteers, the Arboretum is a beautiful garden providing an enjoyable experience for all guests.
Weddings and Special Events
As a top destination for your wedding or special event the Arboretum provides the natural beauty you deserve for your special day. Not only do you get a beautiful setting, but you can also use the kitchen, bring in a caterer and your event planner can do anything you need to make the event a success. Since this is an outdoor venue, the gardens can accommodate a large number of guests.
Arboretum Membership
With a membership to the Arboretum, you gain access to many benefits including an invitation to the annual Member's Party. Membership levels and benefits break down as follows:
Student memberships are $15, Individual memberships are $30 and Family memberships are $40 - All three of these membership levels provides an invitation to the annual Member's Party and tickets to both the Garden Show and the Art in Arboretum event.
Contributor memberships are $100 and Patron memberships are $150 - Both these membership levels provide two tickets to the annual Member's Party and two tickets to both the Garden Show and the Art in Arboretum event.
Benefactor memberships are $250 and Life Memberships are $1,000 - Both these memberships levels provides four tickets to the Annual Member's Party, Garden Show and Art in Arboretum event.