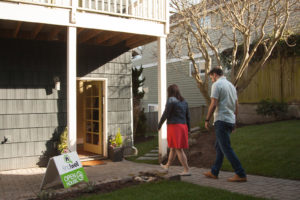 It isn't news that the longer a home is listed on the market, the lower the price it will typically sell for. Real estate agents know that, but how do you explain to sellers that overpricing their home can wind up costing them in the end? Zillow looked at all the homes for sale listed during the course of a year to determine the correlation between list price and the speed of a sale.
The study found that even in a low-inventory market, sellers can't necessarily inflate the price on their home and expect buyers to come running. In the United States, homes that were on the market for seven days typically sold at the list price. After the first week, homes that stayed on the market longer often witnessed larger drops in sale prices (relative to list prices): Homes on the market for about two months (56 days) had sale prices about 5 percent below list price, and homes listed for 11 months (324 days) typically sold for 12 percent below list price.
Here's how real estate agents can help sellers avoid the perils of overpricing their home.
Show your stuff
Sellers only care about their home, but comps and housing data can provide context when you establish the list price. Demonstrate that you not only know the neighborhood, but that you also understand how local and national trends can affect the value of a home — and how you determined the best list price for the market.
You should also address less quantifiable factors that, as a real estate agent, you know can affect a home's perceived value. For example, how fresh the home smells upon entry, how neat and tidy the neighbors' yards look — even personal touches like unconventional paint colors or outside landscaping — can unconsciously influence buyers.
Do the math
Map the hypothetical path the home sale could follow if the seller overprices it out of the gate. With their inflated price tag as a starting point, show them that ignoring a reasonable offer early on — hoping to get a higher one — could result in weeks or months of inactivity and trigger a price drop. Even that might not be enough to entice buyers who now have every reason to think another reduction is coming — one that might prompt them to make a lowball offer or result in a sale price that's even less than the original list price. Had it been accurately priced from the get-go, the home might have been sold much earlier.
Choose a strategy
On the other hand, if a seller hopes to spark a bidding war and sell faster by pricing their home below the listing price, they might want to rethink it. The study shows that going to market for less than the listing price doesn't necessarily sell the home any faster than if it goes at list price.
Homes that sold for 10 percent below list price languished on the market five times longer than homes that sold for the list price. Let sellers know that they might not get anything "extra" for listing low, but they could be walloped for listing with an inflated price.
Pick your battles
Some sellers won't budge from their lofty price tag. Agree to go to market with it, but have a Plan B price reduction ready to implement when they realize you were right to recommend the more realistic number.
When it comes to pricing your sellers' homes to put on the market, it's not a race to list first; it's a race to list best. As their real estate professional, you know how to establish a well-informed, accurate list price that attracts buyers so the home sells faster; the challenge is getting the homeowner to understand that a sentimental, inflated list price won't generate the momentum needed to get buyers in the door for a look around. Remind homeowners that a thoughtfully priced home — that shows well with buyers — will sell in any market and during any season.
By Nancy Robbers on