Monday Night Live on Feb 22 at 9pm EST
Posted by Buddy Blake on Saturday, February 20, 2010 at 12:29:51 PM
By Buddy Blake / February 20, 2010
Comment
On the upcoming February 22nd Monday Night Live from Wilmington North Carolina we will be discussing ideas about getting your home ready to be SOLD and not just "listed". The show is LIVE and interactive and wide-open for questions & answers live and real-time. You can view last week's and other shows in the ARCHIVE section of buddyblake.TV.
Everyone is welcome and we go LIVE at 9:00pm EVERY MONDAY at www.buddyblake.TV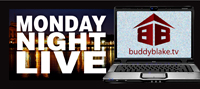 Hosted by Buddy Blake of Coldwell Banker Sea Coast Realty.
If you have any questions you would like to ask in advance please email them to buddy@buddyblake.com