Monday Morning Coffee - Only 290 Homes Available
Posted by Buddy Blake on Monday, February 15, 2021 at 2:06 PM
By Buddy Blake / February 15, 2021
Comment
WILMINGTON, NC - In this week's video Buddy shares the latest housing stats for the area as well as all across the United States. Available home inventory continues to fall while pending sales increase. Buyers are looking at fewer homes and having to act more quickly if they find what they are looking for.
So first off, I'm going to switch over and show you my screen so that I can bounce through this a little bit. So we're going to talk about our market update first. So if you go right here, first thing is, I'm going to show you, this is last week. If you look at the top left up here right up here it says February the 8th. This is last week. I'm going to show you in Wilmington. This is Wilmington, something with a Wilmington mailing address which is a lot of our area. It doesn't necessarily mean just in the city of Wilmington. This is February 8th. I wanted to show you this for reference. 342 homes available, which was down 22% from a month ago. A number of homes available in Wilmington. Usually, we have well over 1,200, 1,300 homes available.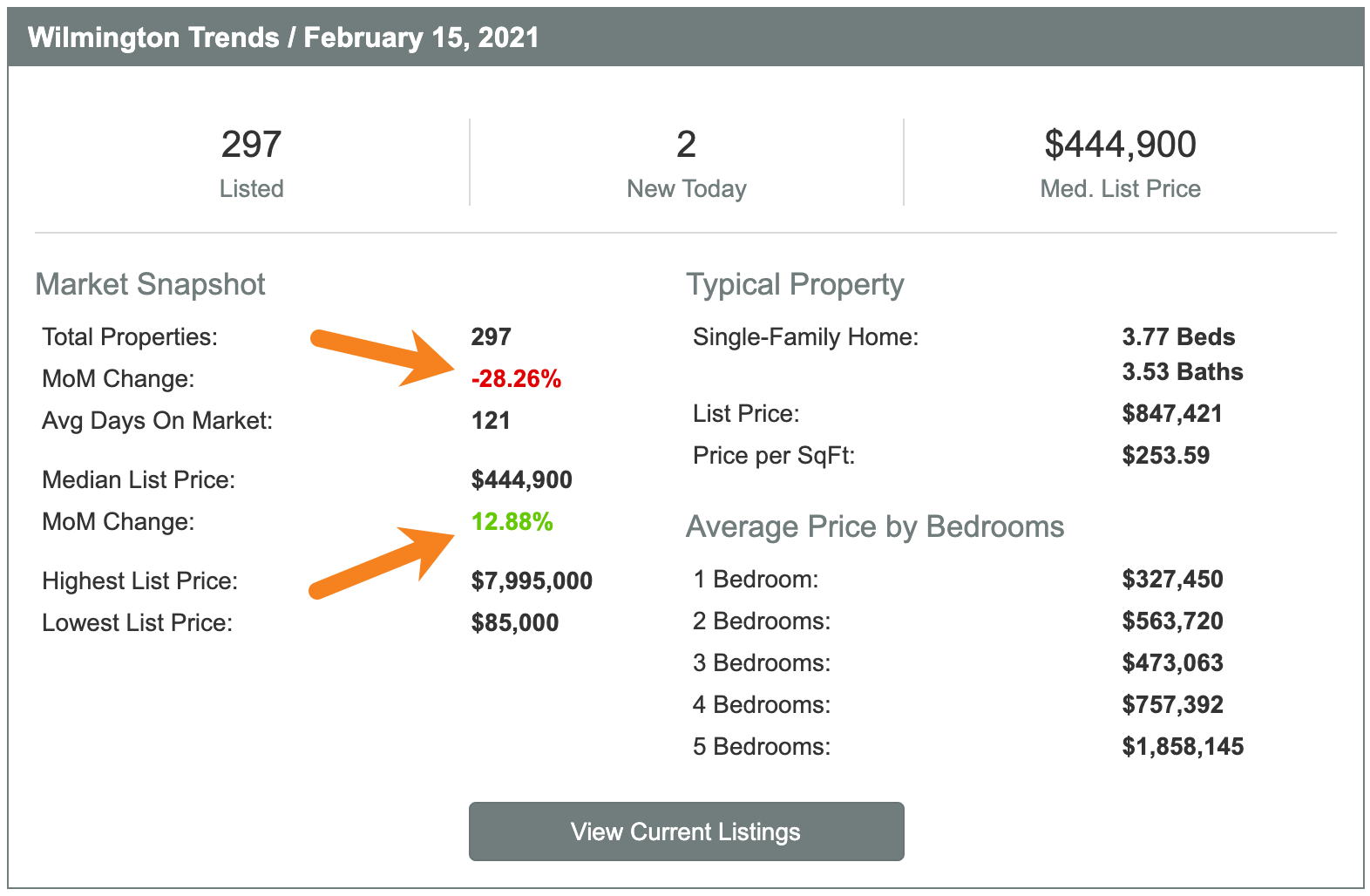 This week. Okay? One week later, we're down to 297 homes available. That is down 28%. That's almost 30% in one month that we've lost inventory. So watch this too, because the prices, if you look at the month over month, in one month, an average median house in Wilmington is going up 12%, the value of it. So people are sitting on more equity than ever before, and it's just phenomenal. Now, this is January. This is something that our MLS released this morning, literally. And it shows you, if you look at the first graph, the number of listings is down almost 12%.
The number of pending sales, homes that have gone under contract is up 50%. So if you look at this right here, you can see that... We're going to continue to lose inventory. And I was going to show you this. It's not just Wilmington, it's all over the country what's going on. Or at least certainly the coastal, Southern, and Western areas, a lot of the buyers are coming out of the Northeast. It's just happening. A tremendous amount of them. They're just migrating to other places. They want to get out of the big cities in a lot of cases. But if you look at this over the last year, you can see existing home inventory, we're down to less than two months supply countrywide. And a normal market, you're looking at four to six months. So this is just unbelievable.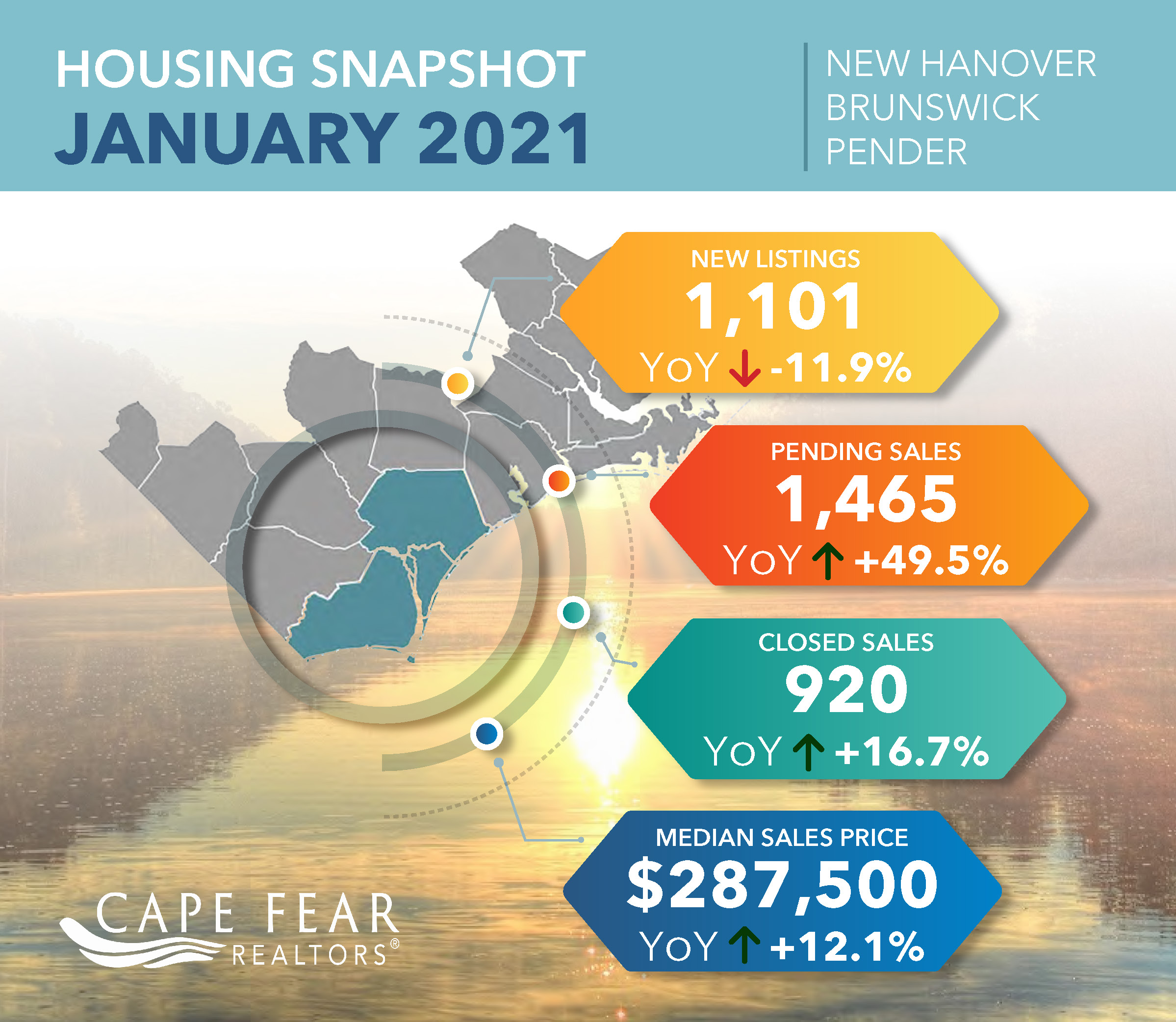 Buyers purchasing power, right now, right now the interest rates check with your mortgage person or better yet check with our mortgage person Paul that's in our office. Say it's two and three quarters. If you can afford a $1,200 a month payment right now, principal and interest, that would get you a $300,000 house. Now, if interest rates go up one point, it would only get you a $270,000 house. So you would lose 10% of your purchasing power if the interest rates go up. And they are going to go up. I don't think there's any question about that. How much? I don't know. When? I don't know. But this ride is not going to last forever.
So next thing I'm going to let you know about, you're going to see some names added to our Waypost Realty, which we created, but we're extremely excited to wrapping... And we're opening a broker branch office here in Wilmington, North Carolina, right at our main office. We're going to be right where we are. You're going to see our same signs, just going to be a little bit of difference on them. And what this is going to do, not only is it going to allow us to offer more expanded marketing opportunities for our clients, but it's really going to help our agents. Our agents are going to have access to health insurance, which if you don't know anything about the real estate business, we're all independent contractors.
So there really is no group insurance plan. So the beautiful thing is EXP has a health insurance opportunity that our agents are able to have. So I'm really excited to be able to offer that to our agents because that's something that's near and dear to me. And as well as my agents, because a lot of agents in the country are not insured because they either make a little bit more over the threshold than what the network allows them to do and do affordably or just it's unaffordable, especially in North Carolina, when you've got like one choice. And you just now, in our company, will now have retirement options and stock options. They can actually get stock, EXP, which is really good. It's going to allow us to expand our reach because they're a cloud-based technology. So we'll certainly have our physical office, but we'll be able to reach out further and serve a larger area and bring in other realtor partners with us on our team. So we can serve clients even better.
They're going to have access to live and on-demand training that's in the cloud. And live, which is fantastic with some of the top agents in the country. And of course, they'll have the design center and the marketing center and there'll be a whole lot more coming on that. And we'll tell you about that. Right now, we're just in the transition. So we're working through it, but you're going to see some stuff coming around and we're just super excited about it, to be able to allow our agents to kind of lean into the fastest growing real estate company in the history of the United States. I mean, it's gone from 10,000 agents to over 40,000 agents in a year, which is incredible. So we're just excited to be a part of and kind of on the front edge of that. So super exciting.
Guys have a great week. If I can help in any way, please let me know. It's busy. And my best advice is if you're buying a house and you found something you want, you need to buy it because we're seeing multiple offers everywhere. And if you're thinking about selling your house, I'm not really sure what you're waiting on, other than maybe you just don't feel comfortable, COVID and stuff like that, which I get. I understand, had a personal history with that now. But we would love to have a conversation with you because if you are thinking about selling in the next year, you do not want to just kick that can down the road. This is the year you need to do it. There is absolutely zero question in my mind anyway about that. Thanks, guys. Have a great week ahead. I can't wait to talk to you next week. Bye-bye.
Past Monday Morning Coffee Monday Morning Coffee
August 14, 2023 - Hi my name is Buddy Blake and I'm a realtor here in Wilmington North Carolina with Coldwell Banker and I'd like to update you on what's going on in our Market you can see from the graphics below that the housing market is down from what it was last year and certainly down from the year before there's a lot of factors at play we've got really high interest rates as compared to where they were certainly not super high compared to where I bought my first house at which was eight and three qua Update Your Insurance Replacement Coast NOW!
Insurance Essentials: A Casual Chat with Chad Huneycutt of the Huneycutt Insurance Company and Buddy Blake, a realtor with Coldwell Banker Sea Coast Advantage. In this candid video, I had an awesome chat with my friend and trusted insurance expert, Chad Huneycutt from the Huneycutt Group. From personal to commercial insurance, flood coverage, and replacement values, Chad shared some valuable insights to help you make informed decisions about your protection. So, let's kick back, relax, and di