Monday Morning Coffee 10-1-18
Posted by Buddy Blake on Sunday, September 30, 2018 at 7:54 PM
By Buddy Blake / September 30, 2018
Comment
Happy Monday October 1st to you and your family! I trust you are well on this new Fall day. The sun has come up and that is very good as we are now only EIGHTY-FOUR DAYS from Christmas - that is hard to believe.
IN THIS WEEK'S CHAT
This week I discuss some Wilmington NC area information about real estate, flood insurance, heavy rental demand, a big thank you to area Churches response and other information that may be helpful.
FLOOD INSURANCE
Unfortunately, in the aftermath of storm events that produce flooding rain or surge events we hear mass stories of families that were either partially or completely flooded that do not carry flood insurance (for "rising water") because they were not "required" by their mortgage lender and/or insurance company to do so. For my family, we normally purchase flood insurance no matter what - If your property is NOT in an area that "requires" flood insurance it can be minimal (ex $300-500 per year) as compared to the value of your home and what flooding can do. Now that the storm has passed, and your home was not flooded, you may want to consider getting quotes to acquire flood insurance, I know it was a lot of peace-of-mind for my family. I would recommend calling your insurance provider and possibly a few other companies to get quotes on the annual premium and any "waiting period" that may be in place post storm.
SHORT-TERM RENTALS NEEDED
In the last week we fielded a tremendous amount of calls and online requests for short-term rentals, furnished and unfurnished - and we do not even handle short or long-term rentals. With numerous outlying and low lying areas flooded; individuals, insurance companies, employers and FEMA are looking for immediate housing for hundreds of families. Our area's rental market was already limited so this has made a challenging situation almost impossible. I've heard a number of situations where rental rates have already increased exponentially with insurance companies etc competing to find homes. We are also receiving calls on any for-sale listings that are perceived from ads to be vacant with folks asking if the sellers will consider renting. A few other savvy options might be using VRBO or AIRBNB as the Summer rental season is winding down and vacation rental owners may not understand the high demand YET.
Also, if I were looking for a rental I WOULD NOT send any money to an individual online or by wire without verifying they are the actual property owner of record. We are seeing a spike in Craigslist or other unverified online sites where someone will post a convincing ad for a rental property that leads to a real-looking application page where a user might be ask to enter their banking, credit card or other personal information to receive the key by overnight mail. Be aware scams are ramped online and try to use a reputable system such a property management company that is licensed in NC, VRBO or AIRBNB.
FEMA MEETING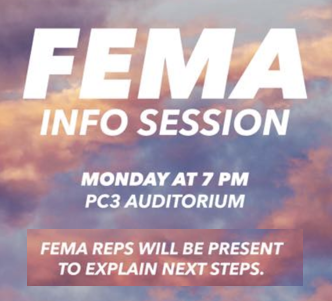 For those that would like to learn more about what FEMA is doing, and plans to do, in our area there is a large live meeting this Monday evening October 1st, 2018 at Port City Community Church in Wilmington at 7:00PM. This meeting can also be viewed live online at https://youtu.be/tSi45pGJjNk