Monday Morning Coffee - Elections - Home Facts - Free Apple Pie
Posted by Buddy Blake on Monday, November 2, 2020 at 11:43 AM
By Buddy Blake / November 2, 2020
Comment
Election Day
Hey, happy Monday to you and your family, wherever you may be. This is Buddy Blake with Waypost Realty here in Wilmington, North Carolina, and it is election week. So, I don't know about you and your world, but we are really happy here that this week is here and this week is moving through. Somebody said today at our sales meeting, maybe we can perhaps deal with one less crisis going forward. So, or at least hotspot. Anyway, listen, we will get through this no matter who we wins, whatever seats, all these kinds of things, we will get through this. And then we'll do it again in another two years or four years.
Anyway, things are busy here. Our problem still continues to be, we don't have homes to sell. I'm going to show you some graphs in just a minute. It's pretty remarkable to be honest with you, but you know, we do see some storm clouds down the line and I'll talk about that a little bit more. There's going to be some issues, we've being kicking the can on for a long time as a country and, foreclosures, forbearances, evictions, things like these. They're going to have to allow those things to process through. We certainly don't want anybody to be out of a place to live, but also you've got landlords who own property who can't get rent, who can't make their payment for several months. And we don't want all these foreclosures to keep going and accruing interest and penalties, and sellers just kind of kicking that can, instead of taking it now while the market is very good and interest rates are very low, so they can actually get out with equity that is there now, if they'll just take it. But down the road, it may not be as much equity.
Preferred Lenders
So, anyway, so I'm going to jump right in. Today is Monday, November 2nd. Can you believe it's 53 days to Christmas? I am so happy about that. We had a great Halloween here, but I'm ready to move through election season and let's get on to Thanksgiving and be thankful and to celebrate Christmas. So I'm going to jump over our preferred lenders, just to give you guys a heads up. Certainly you can use any lender you want, but we recommend local lenders. We've got Waypost Mortgage, we've got Atlantic Bay, which is very good. We've been with them for a long time. We also have guaranteedRate. We've got some favorite folks over there, but one thing in common that all of these have is they are local. We deal with local appraisers. We deal with local loan officers. So you're able to get to people because we are struggling with out of area lenders, internet lenders, and even some credit unions now because they just won't communicate with us the way that they used to. So that doesn't mean all of them, but some of them.
Market - Last 7 Days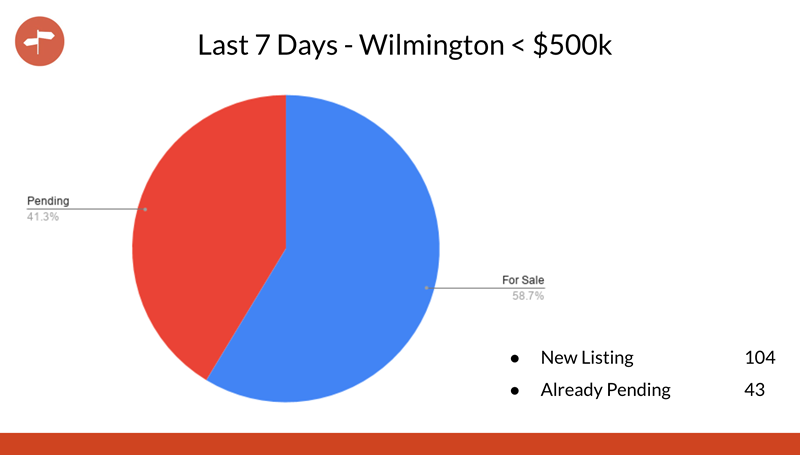 Anyway, I want to kick on through this a little bit. This is interesting. This is homes that were listed in the last seven days here in Wilmington, under $500,000 because we keep seeing things go off the market. Now keep in mind it doesn't really take into account today's Monday morning, the houses that went under contract over the weekend. So there's another slot that those over the weekend. Almost half of the ones that were listed, 104 were listed, only 104, already under contracts, 43. And I think there's probably another 30 that probably went under contract over the weekend. So you're looking at almost, probably 60 to 65, maybe 70% of homes that are going under contract within the first week. So they're just flying off the shelf.
And the thing is, you just got to keep your mind if you're a seller and you've been out there for a little while, you're not getting showings or you're not getting offers, then you're overpriced. This market is extremely clairvoyant on price right now, because if your house isn't selling, it's price. Even if it's a tough location or condition is an issue, price fixes that. So my best advice to anyone is if your house isn't selling, you need to address the price. I know you don't want to, but if you don't address it now in small increments, you're going to probably have to address it later in a big increment. And you're going to have all the interest you've been paying every month while it's been sitting on the market.
Showings - Last 7 Days
Last seven days, what's showing? I pulled a showings report for all the area.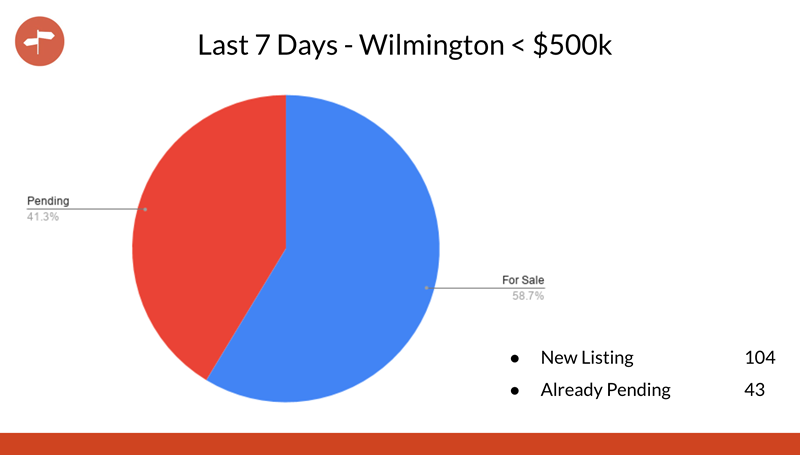 And you'll look up here, Carolina Beach, Wilmington, Hampstead, Leland. It's pretty much our major area. And you can see where the showing is. This is where no matter what company has it listed, this is where showings are going on in the last seven days. So you can see, I see pretty much under 600 is where the swath is right now, tremendous amount of showings.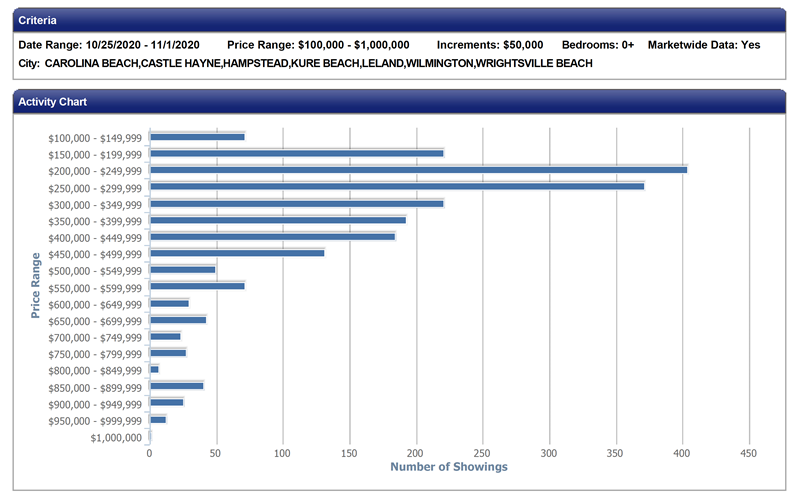 And then when you go a little bit farther, I kind of red lined this. I mean, even up in these price ranges, up around a million, houses are getting an average of at least two showings per week. So if you're not getting two showings a week, no matter where your price range is, you might want to look at your price. So that's an issue.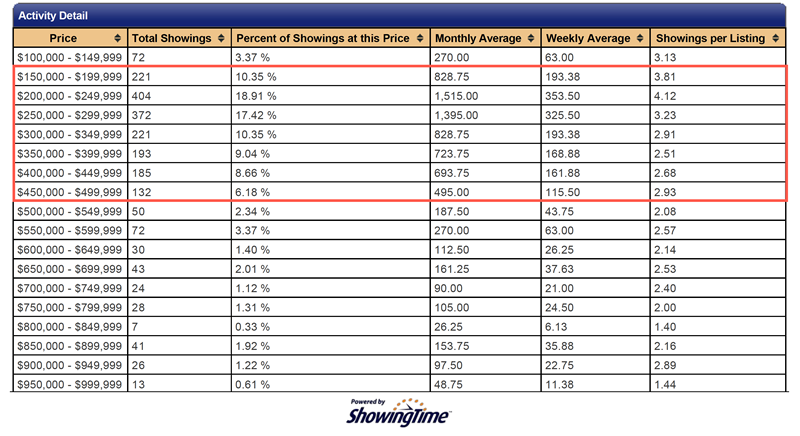 Next thing is I did a blog post, and if you want to look at that, you can go to my website, buddyblake.com, under blog. And there's a pretty detailed report there, I think is helpful for folks looking long range. I like to look six months to eighteen months out, what's going to happen? This is our billboard you're going to see up around Wilmington, popping up tomorrow. They switch over on election day because the billboard rates go back to normal on election day, as does radio and everything because the political ads will be gone. So they kind of consume everything and the prices go up for those.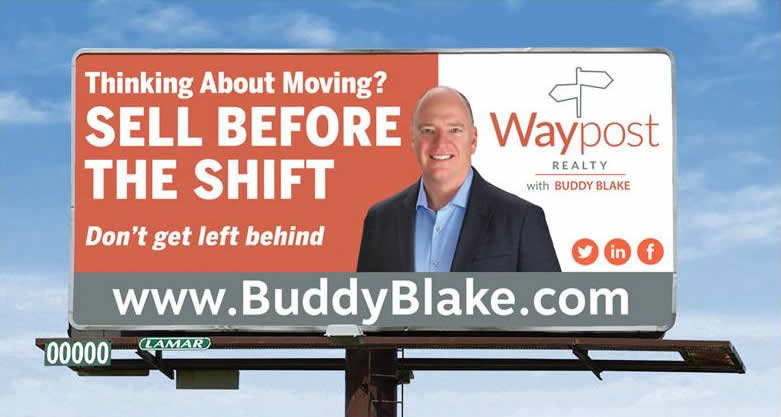 Market Shift
So fortunately, those will go away tomorrow, political ads, and ours will go up. Reminding people, sellers, local folks, that you want to do something before things shift. I don't know when the shift is, we could be already in it, but there is going to be a shift. We were destined for one long before this year happened and it's going to come. And everybody always talks about shift, it's never going to shift, but you don't know that things have moved until six months to a year after they've moved. So just plan on that and it's okay if you want to roll the dice, but you know, wait till the spring or wait till next year, that's your decision. But if the market shifts, it's going to shift fast this time, because there's going to be a whole lot of factors coming into it from COVID, from everything else that's going on.
Office Closed Tomorrow
Reminder our office tomorrow, our physical office will be closed. All of our staff will be working remotely tomorrow. We want to give everybody the opportunity to go out and vote without having to worry about coming to the office and things like that. So you're welcome to give us a call, emails and things like that. We'll still be working remotely though. Other than that, that's everything I've got for this week. I hope you and your family have a great week. Be safe out there and we'll get through this and I look forward very much to coming to you next Monday with a Monday morning coffee and be past the election, hopefully. So thanks.