Monday Coffee - Pictures & Flood Insurance
Posted by Buddy Blake on Monday, September 18, 2017 at 3:09 PM
By Buddy Blake / September 18, 2017
Comment
Pictures & Flood Insurance
This week we are talking about getting your pictures NOW before Fall set's in, especially if you are thinking about selling your home in the next several months. Why wait until the grass is brown and there are no leaves left on the trees? Homes with gorgeous pictures from the Summer will certainly show better than one's with snow on the ground or Christmas lights still up
.
If you are planning to sell your home this Fall or over the Winter NOW is the time to get those photographs, videos and drone shots. If you would like us to help you get this going CLICK HERE... don't wait, pictures and videos sell homes! Also, if you would like to review my marketing guide and home selling tips cick here.
Also, after seeing the horrible damage and how many homes in Texas and Florida have been flooded I just wanted to remind everyone that even if you don't live on the coast you really should consider having od insurance. So many things can happen such as storm water backups, water damn breaks, ponds overflowing and even a neighbors swimming pools, that can cause "rising water", which is not typically covered under normal home owners insurance. If you live in a federally designated high-risk flood zone your mortgage company likely forces you to carry flood insurance, but even if you don't live in a "high-risk" zone you should consider getting a flood policy as its an inexpensive add-on for one of the most valuable assets most people ever own... your home. If you live anywhere in NC or SC and would like to have a free flood insurance policy quote just shoot me an email at buddy@buddyblake.com and I'll put you in touch with an awesome professional.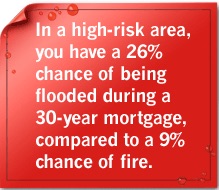 As aways, if I can help you in any way please do not hesitate to call (910) 395-1000 or shoot me an email at buddy@buddyblake.com. If you are wanting to see the latest homes in that are hitting the market in the Wilmington area click here.
If you are serious about selling your home, and would like me to come out and discuss a strategy to get your home SOLD for as much as possible just click over to: https://www.buddyblake.com/sellers/