Celebrating Delicious Blueberries
Posted by Buddy Blake on Friday, June 7, 2013 at 12:20 PM
By Buddy Blake / June 7, 2013
Comment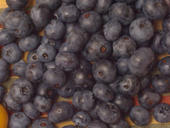 The 10th Annual North Carolina Blueberry Festival will be held in Burgaw, North Carolina on June 14th and 15th. This festival celebrates the tradition of blueberries in this part of the county and provides a great festival just a short drive from Wilmington. Blueberries are very significant to Pender County and it's ranked second in the state for blueberry production. Not only is there plenty of history connected to blueberries here, but there's also a strong economic significance.
Burgaw is a small town just north of Wilmington with a population of about 4,000. It's known for friendly residents and beautiful surroundings. This is one of the premier festivals in the Southeastern part of North Carolina and provides fun and entertainment for more than 30,000 people every year. Whether you enjoy great entertainment, plenty of artisans on hand, antique cars, delicious foods or you're just looking for something unique to do, you'll find it here.
Festival Events
The Blueberry Festival is full of great events including:
Annual BBQ Cook-off - Compete for the name of BBQ Champ in the 10th annual BBQ Cook-off. It will begin on Friday and the judging will start at 8am on Saturday. After meats are judges, they will be served to those in attendance.
5K Run/Walk - Support the festival by running or walking in the Annual 5K. This event will start on Saturday morning and if you're registered, you can pick up your race packet on Friday night from 5pm to 7pm.
Tour de Blueberry - Starting at 8:30am on Saturday, you can enjoy a non-competitive bicycling event with routes ranging from 9 miles to 63 miles.
Blueberry Car & Truck Show - Enjoy all the classic cars and trucks on display throughout the festival. Awards will be given out at 3pm on Saturday.
Blueberry Belles
Antique Show & Sale
Blueberry Baked Good Sale
Blueberry Open Golf Tournament
Recipe Contest
Live entertainment will also be a part of the festivities with The Gospel Lites, Summertime Band, Spare Change Band and The Band of Oz on hand. Children and adults can enjoy a magic show from Ronald McDonald and there will be plenty more throughout the weekend. Admission is free and the event kicks off on Friday June 14th at 11am. It will end on Saturday, June 15th at 9pm.