A Family-Friendly Water Park and More
Posted by Buddy Blake on Tuesday, July 16, 2013 at 6:26 PM
By Buddy Blake / July 16, 2013
Comment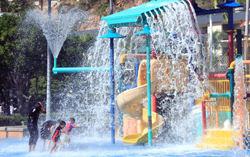 Family fun isn't hard to find in Wilmington, but if you're searching for a great place to spend the day, Jungle Rapids Family Fun Park should be at the top of your list. This park features many attractions, space for birthday parties and more.


Park Attractions
From a water park to a rock climbing wall, there's a variety of activities here for the entire family. Attractions include:
A Water Park - Complete with a wavepool, lazy river, kid zone and waterslides, this is the main park attraction.
Kids Jungle - The largest indoor playground in the city, kids can enjoy a ball pit and so much more.
"The Rock" Climbing Wall - Providing a challenge for climbers of all skill levels, the entire family can scale the wall.
Jungle Golf - An 18-hole course with all kinds of fun, this is an attraction for all ages.
Grand Prix Go-Karts - If you enjoy racing and you're 12 years old, you can drive the go-karts around the track.
Glimmer Art Tattoos - Get your temporary tattoo with over 100 mom approved designs perfect for kids.
Alien Invader Laser Tag - A great time for all kids ages eight and above.
All of these attractions provide plenty of fun. If you plan to play in the water park and in other areas of the park, you may want to bring a change of clothes.
Hours and Prices
Water Park passes for those 48" and taller are $32.99. Those under 48" tall get in for $25.00. Other passes are available, such as the Best Buy pass for $37.99 and the All-In pass for $39.99. The Best Buy pass includes the water park and two dry activities and the All-In pass includes the water park, two dry activities and two slices of pizza. Season water park passes are also available for $150.
Other activity prices include:
Go-Kart rides for $8.99 each
Laser tag is $8.99 per game
Kids Jungle is $6.00 for children ages three to eight and $4.99 for children ages two and under
Jungle Golf is $9.99 for adults and $7.99 for kids
The waterpark is open through August 25th, along with August 31st, September 1st, 2nd, 7th and 8th. IT will be open from 11am to 6pm each day. All other parks will be open Sunday through Thursday from 10am to 11pm and Friday and Saturday from 10am to 12am.